The Truthsayer:

Banner artwork by David Wyatt
The Truth Sayer March of the Owlmen Plague of Mondays Truth Sayer Magic A Step Into Another World The Song of the Sheep
The third book in the Truth Sayer series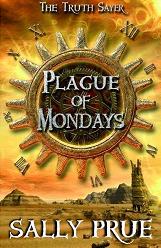 Cover artwork by Oliver Burston
Nian's brother arrives at the House of Truth with a warning that something has gone wrong with the turning of the worlds. This is very serious, and Nian needs to investigate the matter urgently. First thing tomorrow, in fact.
But if the turning of the worlds is being disturbed, then maybe tomorrow will never arrive...
Far away, a group of archaeologists are about to open an ancient sealed tower.
And that really isn't a good idea.
This is the third book about Nian the Truth Sayer - but you can read the books in any order.
Buy The Plague of Mondays HERE
"very exciting and funny" Adèle Geras
"rip-roaring" Julia Eccleshare, Love Reading 4 Kids
Welcome Blog Biography Books Journal Visits Questions Loves Hates Links and Contact