The Truthsayer:

Banner artwork by David Wyatt
The Truth Sayer March of the Owlmen Plague of Mondays Truth Sayer Magic A Step Into Another World The Song of the Sheep
The second book in the Truth Sayer series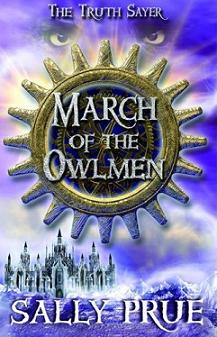 Now in a stunning new edition designed by the brilliant Oliver Burston
The House of Truth, six months on from a Very Large Earthquake.
Some things just ask to be destroyed. Blown up. Razed to the ground.
The only trouble is, you can end up living in a ruin.
It's all change in the House of Truth. The Tarhun are working on the rebuilding, and the Lords are trying to reassemble what remains of their powers.
Meanwhile, new boys are coming to the House to study - though expecting a bunch of boys to sit still and be quiet is just asking for trouble.
And then the owlman arrives. He's terrifying, and even Nian can't make it go away.
Who sent it?
And what does it want?
Buy March of the Owlmen HERE
"Quite scary but very good." Hemesin Jethwa
"hair-raising adventures...and...some very funny cameos." Jill Murphy, The Book Bag
Welcome Blog Biography Books Journal Visits Questions Loves Hates Links and Contact