Ryland's Footsteps published by Oxford University Press
---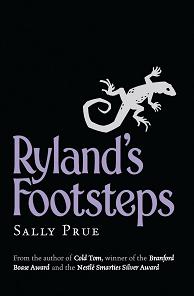 Why are you who you are?
Are you all your own work or have other people made you into you?
Are you just like your mum, or your dad, or your grandad?
Is there anything at all you can do about it?
Or are you DOOOOOMED?
Rye's dad is in charge of everyone and everything on the island. It's a good job he's so hard-working and clever...
...but is he clever enough?
Or will the magic take over?
Buy Ryland's Footsteps HERE
"an original and thought-provoking story, powerfully and graphically written." Books For Keeps
"The strange, compelling tale...of mysteries and magic and fear." Carousel
"a fable full of high adventure." The Irish Times
Welcome Blog Biography Books Journal Visits Questions Loves Hates Links and Contact