Class Six and the Nits of Doom published by A & C Black
---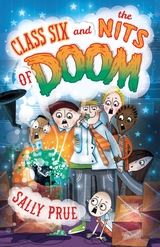 Starting a new school year is nerve-racking: will it be a barrel of laughs, or a long shudder of terror?
Class Six is expecting more terror than laughs because they're almost sure that Miss Broom is a witch.
And that's before they find out about the snake…
…and the witch nits.
I got the idea for this book when I saw a man on the train wearing sunglasses with lenses that shone green. It made him look like an enormous ant, and I found myself wondering what would happen if insects landed on your head and started burrowing down into right your brain.
It turned that going the colour of a mouldy potato is only the very very start…
Buy Class Six and the Nits of Doom HERE
"Prue has written a jolly good romp which moves at a cracking pace and those who've just begun to read fluently will love it." Adele Geras, An Awfully Big Blog Adventure
"My children, 5 and 7, adore this book. We've had it twice at reading time, and it never fails to elicit howls of laughter, especially the gorgeous Slacker Punchkin, whose name alone makes my son giggle like a lunatic" KJ Charles, comment on ABBA.
"The story is really weird and funny." Lily, Aged 6, Primarytimes.net.
Welcome Blog Biography Books Journal Visits Questions Loves Hates Links and Contact