Class Six and the Eel of Fortune (published by Bloomsbury)
---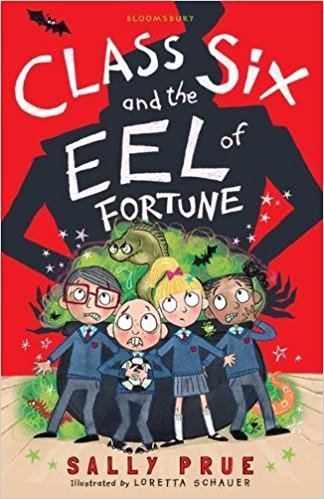 Class Six is in terrible trouble. Horrible Mrs Knowall keeps snooping around the school, and she'll go nuts if she sees the smallest trace of magic – but there is magic, lovely magic, everywhere.
To make things even worse, it's nearly time for the school fair. But who is going to come if there's none of the famous school magic? Mrs Knowall will call in the inspectors if she sees the slightest sign of a unicorn ride, a lean tart, or the worm-charming.
Well, the only person who knows that is Barry.
Because Barry is the Eel of Fortune.
One of the best things about being a writer – or a reader - is that you can go absolutely anywhere, even to places that don't exist on this planet at the moment. You fancy a ride to Atlantis on a sea serpent? You want another glimpse of Jack's giant? You'd like to meet a Neanderthal?
Me too.
And, what's more, in Eel of Fortune, I've done them all.
Buy Class Six and the Eel of Fortune HERE
Welcome Blog Biography Books Journal Visits Questions Loves Hates Links and Contact