Don Quixote by Miguel Cervantes: a re-telling for children (published by Oxford).
---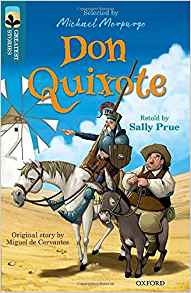 The great knight Don Quixote isn't, strictly speaking, a knight. He's not really a don (which is Spanish for lord) either – and nor, indeed, is he really called Quixote. But, hey, nothing is going to stop him having the sort of magical adventures knights from the olden days used to have…
…unless it's a sad lack of monsters and giants, not having a beautiful girlfriend, and magic not really seeming to, well exist.
The baffled people of Spain, including his poor long-suffering servant Sancho, don't help much either: but, hey, it takes more than reality to cramp Don Quixote's style…
I read Don Quixote just a year before I got this invitation to adapt it. I was expecting the book to be dark, bitter and twisted – for Don Quixote to be basically Wrong but Wromantic - but what I found was a gleeful comedy of great warmth.
Actually, two gleeful comedies of great warmth.
What more could anyone possibly want?
Buy Don Quixote HERE
"***** Great adaptation, my children love it. Mrs MG Gomez-Palomino, Amazon (who, with a name like that, should know).
Welcome Blog Biography Books Journal Visits Questions Loves Hates Links and Contact