Song Hunter published by Oxford University Press
---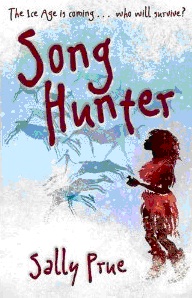 Available January 3rd 2013
What if love and loyalty mean the end of everything?
Itís cold, and getting colder. The mammoths and giant cattle are abandoning Micaís valley, and every year itís harder for Mica and her Neanderthal family to survive.
Theyíll soon need to find some different way of living, but to the Neanderthals new ideas are terrifying, a sort of madness.
Should Mica listen to Bear, who loves her, or does she dare take a step into the unknown?
Out in the valley something is calling to her. Mica doesnít know what it is, but the trails of sound which float through the cold air of the valley have caught her, teasing her with possibility.
And they arenít going to let her go.
Find out all about Neanderthals and the writing of Song Hunter. Special blog HERE.
Buy Song Hunter HERE
"Prue is brilliant at weaving stories about the clash between species, and this is her best yet." Amanda Craig, The Times
"a truly romantic story ... makes Song Hunter an absolute pleasure to read." Jill Murphy, The Bookbag
"This is a very strongly autobiographical book." Roger Prue
Welcome Blog Biography Books Journal Visits Questions Loves Hates Links and Contact